Backflow Prevention in Fire Sprinkler Systems | Ontario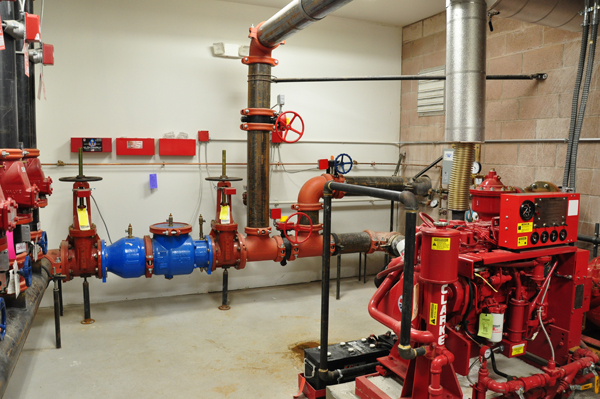 Testing • Repair • Installation
It wasn't too long ago that backflow preventer valves were not required on fire sprinkler systems. A regular check valve or alarm check valve would do the trick. Even though there were never any reported problems with this arrangement, water companies became more concerned with the possibility of the contaminants in the public water supply.
Virtually all sprinkler systems that tie into city water supplies have backflow preventers installed today.
Why water company and NFPA 25 require periodic backflow preventer testing.
The water company's concern is backflow prevention, while NFPA 25's concern is that the check valves open when needed. An unused backflow preventer valve that is not operated periodically may not open when you need it most.
It is a requirement to have Certified Backflow Testers perform these tests.
Stevenson Sprinkler & Fire Protection specialists are Certified Backflow Testers and are all thoroughly knowledgeable of standards per requirements of manufacturer, NFPA and local authority having jurisdiction.
In addition to installation and testing, we can also perform the following:
Add backflow prevention valve to an existing sprinkler system
Repair backflow prevention valve
Recommend and install upgrade when current backflow prevention valve is insufficient for your sprinkler system
Contact us today to have a specialist perform a no-obligation assessment of your facility.
Testimonials
You guys went the extra mile for me and I applaud your professionalism. Great service. Actually, phenomenal!
- Jimmy P.
Great Company. Highly Recommended
- Robert M.
We saved a lot of money in potential property damage thanks to Stevenson Sprinkler. Thanks again
- Martha B.
Serving the following areas: Oakville, Milton, Burlington, Hamilton, Ancaster, Guelph, Kitchener, Cambridge, Brantford, Caledonia, Grimsby, Lincoln, Jordan Station, St. Catharines, Niagara-on-the-Lake, Thorold, Smithville, Pelham, Welland, Port Colborne, Fort Erie, Hagersville, Jarvis, Nanticoke, Port Dover, Simcoe, Waterford, Ohsweken, Saint George, Ontario, Canada
P.O. Box 364
4520 Jordan Road, Suite 1
Jordan Station, ON L0R 1S0
Email: info@StevensonSprinkler.ca
(905)-562-7575 (Phone)
(905)-684-2784 (Fax)
1-(844)-562-7575 (Toll Free)