Fire Safety Signs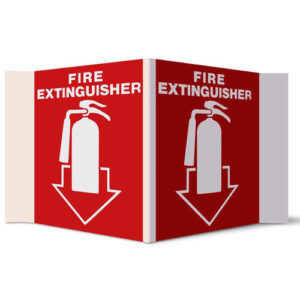 Plastic 3D Rigid Fire Extinguisher Sign
Fire Extinguisher" Stand-Out Sign – 5″ x 6″
Part # ptd182
3D Rigid Plastix Angle Signs are screen printed with UV inks. Rigid tough plastic (1/32″ thick) mounts perpendicular to wall easily with keyholed slots.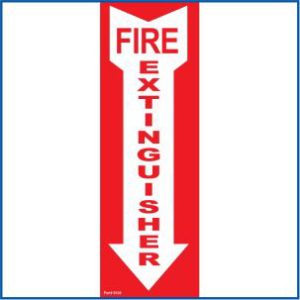 Self Adhesive Fire Extinguisher Arrow
Fire Extinguisher" Arrow – 4″ x 18″
Part # bl109
Self-adhesive vinyl signs and labels are silk screened with UV inks then clear laminated for durability and fade resistance. Mounting surface must be clean, dry, smooth and non-porous (Brick, cement block, etc. is porous). If in doubt use aluminum or plastic signs.
Signs are designed to conspicuously mark the location of the fire extinguisher.
Testimonials
You guys went the extra mile for me and I applaud your professionalism. Great service. Actually, phenomenal!
- Jimmy P.
Great Company. Highly Recommended
- Robert M.
We saved a lot of money in potential property damage thanks to Stevenson Sprinkler. Thanks again
- Martha B.
Serving the following areas: Oakville, Milton, Burlington, Hamilton, Ancaster, Guelph, Kitchener, Cambridge, Brantford, Caledonia, Grimsby, Lincoln, Jordan Station, St. Catharines, Niagara-on-the-Lake, Thorold, Smithville, Pelham, Welland, Port Colborne, Fort Erie, Hagersville, Jarvis, Nanticoke, Port Dover, Simcoe, Waterford, Ohsweken, Saint George, Ontario, Canada
P.O. Box 364
4520 Jordan Road, Suite 1
Jordan Station, ON L0R 1S0
Email: info@StevensonSprinkler.ca
(905)-562-7575 (Phone)
(905)-684-2784 (Fax)
1-(844)-562-7575 (Toll Free)